Voted by TL.net users as the most difficult group in the RO16, Group C saw Rogue defy death and claim first place with a perfect 4-0 score. Rogue utterly dismantled his hand-picked opponent Zoun in his initial series, with the Alpha X Protoss barely able to dent Rogue before getting crushed in the first major battle of each game. Dark hardly did any better, losing one game on account of a failed 12-pool and losing the next game to Rogue's early Ling-Bane all-in.

Rogue showed his usual humility after his dominating performance, downplaying his chances of winning the tournament at his current skill level. He did offer an interesting caveat, saying he might just be able to win if he was to regain his passion.

INnoVation was the second player to escape the group, despite starting off with a one-sided loss to Dark in his initial series. Zoun put INnoVation on the ropes in the losers match—he proved to be quite justified for previously taunting INnoVation for being unable to dodge Disruptor shots. Still, INnoVation's overall macro play and army movements proved to be superior, and he put the upstart Protoss down by a 2-1 score.

INnoVation faced another uphill battle against Dark in the losers match, but once again overcame a game one loss to take the series. The final game was an exemplary INnoVation performance—after maxing out at nine minutes, he overran Dark's Lurkers and Vipers by pure strength of numbers.

The Code S RO16 will conclude on Thursday, Apr 15 9:30am GMT (GMT+00:00) with Group D of the round-of-sixteen, featuring Trap, Armani, sOs, and Zest.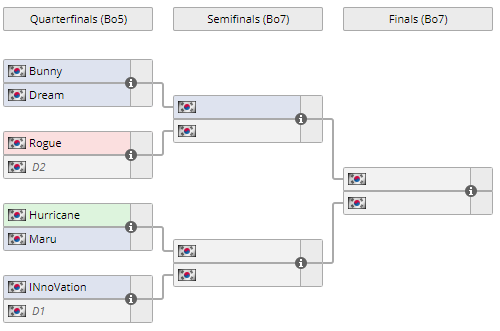 ---
Match Recaps



Initial Match #1: Rogue vs Zoun

Game 1 - Oxide: Zoun opted to skip Stargate and go for the older Glaive-Adept opener. Despite not doing any direct scouting, Rogue sensed what was going on and had defending units in time to ward off any Adept dives. Zoun followed up with Disruptor tech, moving out once he had two Disruptors and Warp Prism speed. Despite Rogue having a huge defensive army, Zoun still attempted an aggressive Adept Shade-dive while dropping his Disruptors. This ended up being a catastrophe for Zoun (his poor micro making things even worse), and he GG'd out after his army was utterly crushed.

Game 2 - Jagannatha: Zoun went for the more common Void Ray-Oracle start this time around, going up to three bases and delayed Glaive-Adept tech. Rogue spread Creep aggressively and kept the threat of Queen-walk all-in in Zoun's head, but continued to play a macro game while teching up to hive. Meanwhile, Zoun transitioned out of Adepts and looked to build a mid-game army based on Stalkers, Disruptors, and Colossi.

Zoun moved out once he had two Disruptors and two Colossi to support his Gateway troops. While the army looked dangerous at first, it turned out to be rather toothless when Rogue set upon it with mass Roach-Ravager-Hydra-Viper. The Colossi were instantly abducted and killed, while well-placed Blinding Clouds nullified the remaining Stalkers. After crushing Zoun's army, Rogue reinforced his swarm to easily take the game.

Initial Match #2: INnoVation vs Dark

Game 1 - Deathaura: Dark expanded normally to his natural, but then placed a proxy Hatchery at INnoVation's third base to go for a cheesy Roach-Ravager all-in. Despite getting caught off guard, INnoVation managed to scramble his SCVs on defense and hold off the initial wave of attackers—albeit at the cost of many SCVs.

However, Dark wasn't done just yet. He reloaded for another round of attacks, and despite a couple of Tanks being out on the Terran side, he was able to bust through with Corrosive Biles and end the game.

Game 2 - Romanticide: The two players went for a more passive macro build-up in game two, with Dark showing his personal style by relying on Roaches instead of Ling-Bane for mid-game defense. In any case, INnoVation looked to hit a 2/2 timing with Bio-Tank, while Dark teched up to Lurker-Viper behind his Roaches.

INnoVation's 2/2 attack came well after Dark was done filling his Viper energy, which meant the initial advance of Tanks on Dark's third base was quickly stopped. INnoVation tried to exploit the immobility of Lurkers and Roaches by loading up for an abrupt drop in the main, but Dark had anticipated such a move and already had spores and Zerglings in place. Dark crushed the drop, giving him a brief window where he had a significant army advantage. Dark tried to exploit this by attacking several of INnoVation's bases at once, but INnoVation responded well on defense and set himself up securely on five bases.

Despite INnoVation increasing the Tank, Marauder, and Ghost numbers in his army, Dark decided to stay on Roach-Lurker-Viper for a while. His second round of attacks were much more successful in finding the holes in the Terran defensive line, taking a great fight against a mispositioned chunk of INnoVation's army and sending him reeling. Dark refused to let INnoVation regain his bearings, and continued to send reinforcements swarming in from multiple directions until INnoVation GG'd.

Winners' Match: Rogue vs Dark

Game 1 - Lightshade: Dark opened up a 12-Pool cheese while Rogue went for a Hatch-first build. Despite being extra-aggressive and building up to twelve Zerglings, Dark was unable to do any significant damage against Rogue's great Drone defense. This left Dark massively behind in terms of both economy and tech, forcing him to gamble on a quick Spire. A good idea in theory, perhaps, but it wouldn't work out for Dark—he was overrun by Rogue's Roaches just as his first Mutalisks popped out.

Game 2 - Oxide: After more ordinary three base starts, both players ratcheted up the Zergling and Baneling production for some early bane skirmishing. Neither player was able to take an advantage, and they eyed each other carefully while looking for a chance to transition.

Dark was the first player to flinch in the game of chicken, returning to Drone production. Meanwhile, Rogue went for continued production of Ling-Bane. Seeing Dark's army positioned too far forward, Rogue took advantage of the situation by sending his forces down one of Oxide's paths and straight into Dark's main (unfortunately for Dark, his defensive Banelings were covering the wrong bases). The situation quickly snowballed out of control for Dark and he GG'd out.

Losers' Match: INnoVation vs Zoun

Game 1 - Deathaura: INnoVation went for a proxy-Starport Hellion drop, while Zoun planned a slightly later strike by going for 4-Gate Glaive-Adepts. Good reactions from Zoun let him stop the Hellions without losing a single Probe (a follow-up drop killed 3), leaving him to plan his counterattack. While the scouting from the Hellion drop let INnoVation have defenses set up, Zoun decided to just suicide Adepts into INnoVation's SCV lines to significantly hurt his economy.

While this move put Zoun temporarily ahead, INnoVation was able to use his army advantage to pay Zoun back. As Zoun looked to secure three bases and transition to Stalker tech, INnoVation abused the relative immobility of the Protoss defenders to cause distractions and launch devastating drops into the Probe lines. This ultimately put INnoVation ahead, secure on four bases with a powerful army being rapidly built.

When INnoVation moved out with his ultimate army of Bio and Vikings, Zoun responded by trying to temporarily base-trade with his main army before recalling back to defend. The difference in firepower between the forces meant it didn't quite work out for Zoun—both players were knocked back down to three base economies, but Zoun lost significantly more Probes.

It seemed like it was curtains for Zoun, but rather improbably, he managed to turn the tide. Partly, it was due to INnoVation overestimating his position and taking some questionable fights. But the real stars of the comeback were Zoun's Disruptors, which INnoVation proved to be quite poor at dodging (as Zoun had previously remarked). Each scrappy skirmish saw Zoun pull further and further ahead, until he was able to take the fight to INnoVation's base and end the game.

Game 2 - Romanticide: INnoVation went for another Hellion drop variant, this time adding Armory-Mines for a quick one-two combo. Despite going defensive Phoenixes, Zoun's control wasn't up to snuff this time around and he ended up losing 13 Probes to the drops. Yet, somehow, this wasn't an utter disaster for Zoun. INnoVation's follow-up drops were largely wasteful, while Zoun's Phoenixes picked off a decent number of units and SCVs on the other end of the map. Ultimately, the two players ended up building up to a macro game on reasonably even terms, with Zoun looking to exploit INnoVation's weakness with another Disruptor-centric composition.

Having learned from the previous game, INnoVation avoided head-on attacks and made more mobility-based plays. Zoun's defensive positioning and multitasking proved to be rather lacking, with his army easily drawn out of place by feints. Seemingly at will, INnoVation was able to find a way to distract Zoun's army and tear down his fourth base, keeping Zoun stuck on a three-base economy for an extended period of time. While INnoVation continued to be a Purification Nova-magnet when he had to go up against Disruptors, his resource advantage let him eventually bludgeon Zoun to death with bigger armies.

Game 3 - Pillars of Gold: INnoVation went for a full 1/1/1 proxy, and Zoun quickly realized something was awry when he Probe-scouted an empty Terran main. INnoVation showed two Hellions to Zoun's subsequent Zealot-scout, but his actual plan was to go for a 4-Mine drop with an Armory.

Zoun pulled off a solid defense against the initial drop, minimizing his Probe losses. However, his execution wasn't quite pristine when the Mine cooldowns cycled one more time, losing more Probes and even an Observer to incidental splash. Meanwhile, INnoVation had floated everything back to his main and seemed to be gearing up for a deadly Raven-Tank-Marine follow-up.

Some good Blink-Stalker harass from Zoun delayed INnoVation's Combat Shields upgrade, to which INnoVation responded by taking his third base and going for a later attack. The delayed attack proved to be just as deadly, with INnoVation having a significant number of Tanks from near non-stop production. Zoun had managed to squeeze out a few Colossi and Disruptors, which helped him barely fight off the first Terran attack. However, Zoun couldn't fully stabilize against INnoVation's signature parade-push, and he GG'd out against the unrelenting waves of Terran reinforcements.

Decider Match: Dark vs INnoVation

Game 1 - Romanticide: INnoVation gambled on a proxy 2-Barracks build that was quickly discovered by Dark's Overlord. Dark opted to defend with a small Drone-pull, sending out five of them to try and pick off the initial pair of Marines produced. This ended up working rather well for Dark, who lost two Drones but was ultimately left with a far better economy.

INnoVation tried to play a macro game from behind, but it was a hopeless endeavor against a player of Dark's caliber. Once Dark assembled his Hive-tech army, the game was effectively over—even though INnoVation managed to survive for a surprising long time.

Game 2 - Nautilus: Dark started bottom left, while INnoVation started top left on the four-player map of Nautilus (the third time in a row we got these exact spawns!). After a three-hatch start, Dark looked to go for an early poke with Roaches, which INnoVation managed to scout with his initial Reaper. With this information in hand, INnoVation opted to sneak his initial Hellions around the Roaches for a backdoor attack while conceding some SCV losses to Dark back at home. While the trade seemed to go well for INnoVation at first, Dark squeezed out some extra kills toward the end of the exchange, killing 18 SCVs while losing 14 Drones.

The two players collected themselves and moved on to another macro game. Perhaps fearing the short push distances on Nautilus, Dark delayed his tech to stay on a Roach-Infestor army in the mid-game. This worked well against INnoVation's initial Marine-Tank push, with Fungals blanketing the Terran army and helping the Roaches wipe it out. However, INnoVation fought back well from this setback, securing more expansions on his side of the map while trying to exploit Dark's slower army with drops.

Somehow, Dark ended up in an awkward spot where his tech-switch to Lurkers and Vipers was very late (a situational misread, perhaps?), and he was ill-equipped to handle INnoVation's second major push with maxed-out 3/3 bio and mass Tanks. Dark was forced to concede ground to the Terran force, which marched forward with gusto and tore down several Zerg bases. Dark managed to barely get a few Lurkers and Vipers out on the field when the Terran army started to threaten the core Zerg bases, but his swarm was still outgunned. Not even some great Fungal Growth hits could help Dark's forces prevail, and he GG'd out.

Game 3 - Pillars of Gold: Both players decided to go for 'honorable' macro openers on the final map of the night, with INnoVation going for some Hellion-Banshee harassment but not finding much damage. As in previous games, Dark looked to play a Roach-oriented mid-game while teching up quickly to Hive tech.

As for INnoVation, he opted to punish this Baneling-less play by maxing out at nine minutes and launching a huge Marine-Tank attack. This caught Dark at an awkward moment where his first Lurkers and Vipers had just entered the battlefield, but were still lacking in numbers. INnoVation arranged his troops into a wide arc and attacked into Dark's fourth base, with his superior positioning allowing him to defeat the Lurkers and Roaches with their impressive firepower. Dark conceded defeat and sent INnoVation on to the playoffs.