China Team Championship: Season 2
Farewell to Online Play
by TheOneAboveU
The regular season of the China Team Championship concluded last week, and five teams will soon be headed to Shanghai to compete in four days of live playoff matches. Before we get to our playoff preview, we recap a high-stakes final week of the regular season and go over some of the best (and worst) matches we've seen so far.
Group A, Week 5 recap: LP eliminate Newbee, snatch #2 seed from Jin Air
Team LP 4 - 2 Newbee
Watch VODs - Match 1 - Match 2 - Match 3
Team LP enjoyed a perfect ending to the regular season, as they not only clinched a playoff spot by defeating Newbee through their own efforts, but also managed to overtake Jin Air Green Wings for the #2 seed with a bit of help from KaiZi.
One might have sensed that the force was with Team LP from the very start. LP.Jieshi struck the first blow by taking a map off enemy ace Newbee.Dear with an Adept all-in, securing a 1-1 result that would end up being very important for his team. LP's hard-carry Impact delivered as usual, finishing off Scarlett quickly in a 2-0. That left Patience needing to win but a single map to get LP into the playoffs—not a guarantee, given Patience's inconsistency this season. And indeed, TIME took the first map in a macro game, keeping hope alive for Newbee. He could not, however, repeat the feat, and Patience closed the series out LP by winning the next macro game.
For Newbee, the match ended a season in which their only consistent source of wins was Dear. TIME, despite looking to be a class above his fellow Chinese players in other competitions, was unable to live up to his reputation in the CTC, joining Scarlett in being an unreliable contributor.
Brave Star Gaming 5 - 1 Invictus Gaming
Watch VOD
This wasn't a pretty ending to Invictus Gaming's season, but one's loss is another's gain. In danger of going winless on the season, Brave Star were able to defeat iG in this duel for last place and finish the season in 5th place.
Though iG.iAsonu proved again he could upset foreign opponents on a semi-regular basis—his victim being BSG.Hurricane at this time—the rest of his team could not quite follow his example: BSG.Cyan took a surprisingly dominating win over iG.XiGua, and BSG.Dream continued his upward trend in the league, beating a debuting iG.MacSed.
Despite their poor finish, Brave Star Gaming have reason to be optimistic going forward. Dream started to recover some of his old form halfway through the season, putting up solid results in the CTC and various other online competitions. As for iG, they may have finished on the bottom of their group, but at least finished above Black Night in the combined standings. They won moral victories by upsetting LP and forcing Newbee to an ace match, but true playoff contention will remain out of their reach without significant reinforcements.
KaiZi Gaming 4 - 2 Jin Air Green Wings
Watch VOD
Jin Air Green Wings faced a small possibility of elimination if they had lost this match 0-6, but they ended up headed to the playoffs after taking a more 'conventional' loss against KaiZi.
KZ.Super had a very impressive PvP showing against two-time Code S finalist Trap, beating him pretty convincingly to end on a very good 6-0 record in the regular season. JAGW.Rex couldn't make anything surprising happen against KZ.INnoVation, though he actually looked surprisingly solid in the two games they played. JinAir.Rogue saved his team from embarrassment by showing some solid defense against KZ.Misaki, who couldn't make his aggressive tactics work this time.
Jin Air's 2-4 dropped them down to third place, forcing them into a wild-card match (more on that below) which they eventually won. Despite having the strongest roster in the tournament, starting the playoffs from the bottom of the ladder can't feel all that great. Meanwhile, KaiZi secured first place in the group, giving them a considerable advantage in the championship race.
Group B, Week 5: Sakura decides the playoff race
Triumphant Song Gaming 4 - 3 Pixel 1
Watch VOD
In the clash of titans in Group B, things pretty much went as expected with 1-1 ties across the board. P1.PartinG took the first map with a strong pre-Brood Lord timing push after he had suffered some grievous economic damage from Ling-Baneling harassment, while TSG.Solar defended a canon rush and air harassment on the second map to win the game with his Mutalisk swarm. The duel between P1.FanTaSy and TSG.herO followed the pattern: the Terran won the first map by roasting herO's economy with a trio of Hellions that sneaked into the Protoss natural while a Marine drop provided distraction in the main. A similar attack failed to have impact in the second game, giving herO the standing power to defend FanTaSy's continued Bio-Tank assault from two bases. If you're a fan of Void Rays, this is a game for you.
Even TSG.Nice and P1.Firefly couldn't help but continue the pattern, as Firefly took Map 1 for Pixel 1 in an action-packed Disruptor vs. Disruptor PvP duel, and Nice countered on Map 2 with a strong push after living through Firefly's Phoenix harassment.
At this point, P1 had already secured #1 in Group B on points, regardless of the result of the ace-match. With nothing to gain, Pixel 1 sent out Firefly—a move FanTaSy later explained as giving their relatively inexperienced player some battle hardening. Firefly was crushed by Solar as you'd expect, but perhaps the experience will do him some good going forward.
Ocean Gaming 5 - 1 Black Night
Watch VOD
Headed into the match, things looked bleak for OG. To make the playoffs, they needed to win their match against Black Night by a score of 5-1 or better, while also needing the result of Chivo vs PSISTORM to go their way. In the end, everything worked out perfectly.
OG.TooDming versus BN.Armani was expected to be the make-or-break for OG in this regard, but the Chinese Zerg actually played his part perfectly and secured a map with a quick Ling-Baneling attack. Though he couldn't finish the duel with 2-0, salvaging a single point turned out to be sufficient. OG.SpeCial and OG.Zest finished the job BN.Daydreamer and BN.DynaMite respectively, securing the 2-0 victories needed to keep OG in the playoff race.
With all that done, Ocean Gaming had to hope on certain results between Chivo and PSISTORM on the following day… and they got what they needed by the grace of PSI.Sakura.
Chivo SC 4 - 2 PSISTORM Gaming
Watch VOD
This series certainly was a bit of heartbreaker for both Chivo and PSISTORM fans. From Chivo's perspective everything went perfectly on the first four maps, with Chivo.soO and Chivo.RagnaroK not dropping any game to PSI.TRUE and PSI.GuMiho. On the other hand, that was obviously a catastrophe for the American team, as it confirmed their elimination from the playoffs before the final match was even played.
While PSISTORM was eliminated, Chivo still needed to get every map point possible to overtake Ocean Gaming and claim the final playoff spot. So everything was down to Chivo.ExpecT, who hadn't taken a single map win up to this point, and PSI.Sakura. All Chivo needed to advance was a single map win. PSISTORM was out, but Sakura was still playing for honor… and Ocean Gaming (a 2-0 for Sakura would put Chivo and OG even on points and map score, but give OG the head-to-head advantage). Sakura delivered. His Dark Templars secured a decisive advantage in the first game, and though they didn't do quite so well on the second map, they still forced ExpecT into a very defensive posture his opponent used to expand his advantage. Unfortunately for Chivo, their Taiwanese player didn't stand any chance against Sakura, who thus secured Ocean Gaming's chance to play against Jin Air Green Wings in the decider match for the offline playoffs.
Play-off Wildcard Match: Jin Air vs Ocean Gaming
Jin Air Green Wings 4 - 1 Ocean Gaming
Watch VOD
The playoffs technically began with this 'wild-card' match, pitting the 3rd place teams from Group A and B for the right to join the offline portion of the playoffs in Shanghai (beginning October 11th).
OG.Zest made Jin Air sweat in the opening series, losing to Maru's bio-push in game one but winning in a typically solid macro PvT in game two (on Thunderbird, of course). While Rogue 2-0'd ToodMing to put Jin Air up 3-1, his team could not have felt at all comfortable. SpeCial was up next for Ocean Gaming, and looked primed to take a 2-0 victory over Rex (3-7 on the season) to force a BO1 ace match where anything could happen.
Yet, in a moment straight out of a high school sports movie (albeit, an unusual sports movie where the protagonists are the rich, juggernaut team), the much-maligned underdog Rex came through for his team when they needed him most. Without having to resort to cheese or any devious tactics, he out-dueled SpeCial in a more-or-less standard macro game to seal a 4-1 victory, securing Jin Air's place in the offline playoffs.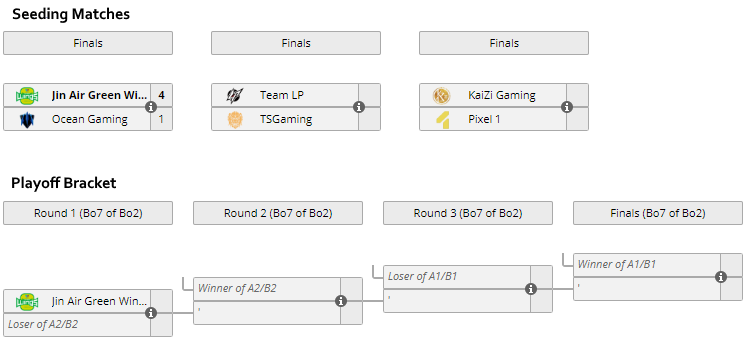 Regular Season MVP: LP.Impact
It's right there in the name: few players have had such critical influence on their team's overall fortune than

Impact
for Team LP this season. Going 10-2 over the course of the five weeks of play, Impact almost single-handedly turned around what started as a very bad season for LP. After all, the Season 1 runner-ups lost their very first match to Invictus Gaming, and though they forced the ace match against Jin Air Green Wings in Week 2, they were dealt another loss there, putting them at a 0-2 score with 5-8 in maps.
Only during the last three weeks of the season did LP really turn up the heat, with Impact going 7-0 in this timespan, defeating KZ.INnoVation, BSG.Hurricane, BSG.Dream in an ace match, and Newbee.Scarlett without dropping a single map. At the same time, his colleagues LP.Jieshi and LP.Patience went 2-4 and 3-3 respectively, contributing to LP's playoff campaign, but leaving the heaviest lifting to their Zerg player.
Though other star players in the league have comparable records to Impact—such as TSG.Solar, TSG.herO, P1.FanTaSy, P1.PartinG, and Newbee.Dear—they either had someone else on their team with a comparable performance, sharing their burden (the Korean TSG and P1 duos), or ultimately failed to carry their team all the way into the playoffs (Dear).
Best Games of the Regular SeasonTL.net's Best Games of September article just came out, but Elentos threw in a few bonus games from the CTC regular season.

TSG.herO vs. Chivo.soO (Acropolis)

+ Show Spoiler +

Sometimes ace matches truly deliver quality games that match their importance as a decider. The duel between herO and soO on Acropolis was one such ace match, developing into an epic duel of about 35 minute length with all the late-game tools you'd expect from a PvZ in today's meta. Though not played perfectly, because neither of the two protagonists are true late-game experts, the struggle is worth a watch, as both players present their own take on the PvZ end game and fight until the end to secure the victory for their team.


P1.PartinG vs. PSI.GuMiho (Thunderbird)

+ Show Spoiler +

The good old proxy Gateway made a return in this match, as PartinG took on GuMiho and aimed for a quick victory. But sometimes things don't exactly go as planned, and we ended up with an epic, action-packed 20 minute PvT onslaught with everything your Protoss and Terran hearts could ever desire. This is the good 'When Cheese fails' edition, when a game stabilizes into a really awesome macro game, and doesn't devolve into even more of a clown fiesta.


OG.SpeCial vs. PSI.GuMiho (Ephemeron)

+ Show Spoiler +

Listen to ToD and look at the supply in this match, because most of the time, it's as close as it could be in this TvT bloodbath between SpeCial and GuMiho. This is a classic TvT, showcasing all the best facets of Marine-Tank. It could probably best be described as an action-packed game of chess, as both players try to gain the best positions, make decisive moves, and have to deal with the consequences, as no ground is given lightly.


P1.FanTaSy vs. OG.Zest (Thunderbird)

+ Show Spoiler +

Sometimes FanTaSy does remind us that he was one of the best Brood War players of his era, like in this match against Zest on where he played mech TvP… in StarCraft 2. Sounds like it shouldn't work, right? Well, FanTaSy made it work. Warning: We label this game NSFP (Not Safe For Protoss), and advise caution.


KZ.INnoVation vs. Newbee.TIME (Ephemeron, Thunderbird)

+ Show Spoiler +

Our very own Ziggy described this as 'a must-watch bout for TvT connoisseurs' in his Week 4 recap, giving you enough incentive to watch this duel between the Korean juggernaut INnoVation, who maintains very dangerous TvT in spite of his overall slump, and Chinese hope TIME, whose overall weaker performance in the mirror match-up made him the clear underdog here. But damn, did the underdog fight for every point here.


Regular Season Has Award: TSG.Solar vs. BN.Daydreamer (Ephemeron)

+ Show Spoiler +

Regular viewers of the CTC are surely already aware of its existence, but the baffling nature of the game between Solar and Daydreamer on Ephemeron during the first week of this season just couldn't be topped over the course of the competition, and thus receives our 'Has Award' for the regular season. Do yourself a favour and watch it, preferably with a glass of wine and a piece of cheese, for this is a true classic of the genre, checking several boxes on the 'When Cheese fails' list—without saying too much, the term 'base trade' was taken very literally by the players.


… and some more hilarious matches we recommend:

KZ.Misaki vs. BSG.Hurricane (Disco Bloodbath)

+ Show Spoiler +

KaiZi's Chinese player Misaki built himself a bit of a reputation as a very tricky Zerg over the course of the season, laying the foundation in his very first match against Hurricane. The chaos on Disco Bloodbath—the map name was very fitting for this one—is truly something to behold, as Misaki switches from one impossible composition to the other, baffling both Hurricane and the viewer. And, somehow, it worked out.


P1.FanTaSy vs. PSI.TRUE (Acropolis)

+ Show Spoiler +

https://youtu.be/-Ez1jQZpbc8?t=2715



By now a game genre all on its own, FanTaSy vs. TRUE is a gift that keeps on giving, the latest iteration happening to be played out in the CTC. Watch as two of the most stubborn players to have ever touched this game have to find solutions to problems they created themselves by making questionable decisions, resulting in an action-packed back-and-forth game in which you never truly know who is on top, because somehow this pair of players manages to surprise not only the viewers, but even themselves with their moves a lot of the time.


JAGW.Maru vs. iG.iAsonu (Triton)

+ Show Spoiler +

As Maru finally graced the CTC with his presence, he was met by one of China's finest players. Though there was no doubt about the outcome of this duel beforehand, the first game between Maru and iAsonu on Triton made you think several times that perhaps there was a chance for the Chinese Zerg to take this series for Invictus Gaming—for example when he literally killed 76 SCVs (watch the counter!). But alas, iAsonu went full Tefel in the end.


OG.Zest vs. PSI.Sakura (Ephemeron)

+ Show Spoiler +

https://www.youtube.com/watch?v=FaDJL3QAWBg&feature=youtu.be&t=3817



It's always kind of satisfying when a cheese often used against other races finally gets turned around and is used against the own race to give the opponent a taste of his own recipe. This is basically Sakura vs. Zest in a nutshell, as the Chinese decided to canon rush his Korean opponent, and then continued to add some extra buildings on his frontier outpost right at Zest's ramp. Hilarity ensued.



---



Credits and acknowledgements
Written by:
TheOneAboveU
Editor: Wax
Stats: Aligulac.com
Images: SCBoy