As one of the few elite Terran players on the WCS Circuit, the hopes of an entire faction often swing on

uThermal's matches. Though the Dutch Terran suffered a surprising group stage elimination at WCS Winter, he surged back by defeating WCS Winter Champion Reynor in the WCS Spring EU Challenger tournament.

TL.net talked to uThermal about his winter setback and spring revival, the current stature of

Reynor and

Serral in Europe, and the benefits of working with Team Liquid's sports psychologists.

*This interview has been edited and condensed.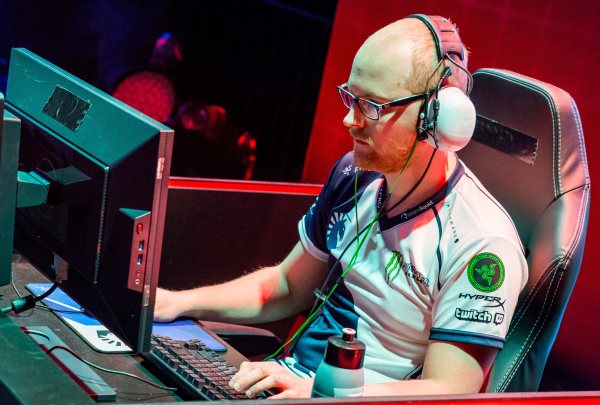 Image: Andre Hainke (via Blizzard)
Wax: How do you feel about qualifying for Kiev after losing in the group stages of WCS Winter?
uThermal: It was nice. I mean, WCS Winter was particularly disappointing. I thought I could... I didn't know if I could win, but I thought I could get top three. It kinda seemed like an easy money tournament—most of it's online, it goes very slow, and it's preparation style which is good for Terran in general. So I thought I was probably going to get top three or something, but I got eliminated in the top 16 and I was really disappointed.
This time [in WCS Spring Challenger], I was already kinda worried about my group, my group was pretty difficult I think, and I got through that. Then I saw Reynor, and I thought I was probably going to win, but it was still very relieving to get the spot after losing in WCS Winter.
What do you mean by 'easy money tournament?' Everyone seems to says that Europe is so deep, and that you could lose to anyone.
Yeah, but even in [previous WCS Circuit events] with everyone, I usually get like top eight, right? And also, I think I'm the kind of a player in general that has a high win-rate, but I tend to lose quite often in the single, big match—in a RO8 or whatever. I just thought the format really suited me as well. Europe is pretty hard, but to me it just felt like a normal WCS tournament, but slow and online. I feel like every time I had a good amount of time to prepare for someone I would usually win. So I had a really good feeling about this tournament, but I kinda bombed out getting destroyed by

HateMe
.
What's so important about preparation for Terran? Do you mean the very all-in builds, or just broader preparation?
It's mostly about the early game. Terran is the race that suffers the most from having other players know your build, because Terran just kinda needs a bit of early game boost, momentum to get through the game. If your early game sucks then the game falls apart pretty fast. But on the other hand, if your early game goes well... Like if you play against Zerg and you have a good opener and you find a way to kill some Drones, deny Creep, or whatever, suddenly the game becomes a lot easier because you can actually move out—you don't have to be afraid of everything. Against Protoss it's kind of the same. In a preparation style tournament you always have enough time to prepare builds that will make you get through the early game I feel. I mean not ALWAYS—you can't always just come up with a new build, and sometimes your opponent will actually counter—but I just feel like that's why preparation is good for Terran, because Terran needs that early boost. If other races know your builds it's kinda just difficult to play.
You beat

Reynor in the qualifier match for WCS Spring (VOD). He had a lot of community hype after he beat

Serral to win WCS Winter Europe, but how did you feel about having to face him?
I feel like me and most players think Reynor is... he's kinda like the other players. I think everyone still thinks Serral is way better than the rest, and Reynor is like... I feel what he has on his side is that he's really young, he's really excited to play, he's hyped and he's trying, but I think skill wise he's pretty similar to the other top pros—like ShoWTimE or HerMarine or Lambo, or whoever—I think Reynor is just kinda similar to them. I feel like in general in Europe, every top pro is kind of the same, except Serral who is better.
It seems like other Zerg pros felt like they had a chance to knock off Serral last year, that they could have been the one who got that inevitable ZvZ win.
That's the thing about Serral, right? Obviously he was the best, but he had his obvious vulnerabilities too, like crazy styles in ZvZ playing Mutas or taking a lot of risks. I feel like everyone thinks they had their shot, and they did—like Scarlett lost a couple of 3-2's, Lambo had like two close losses, one in the semifinals.
How did it feel going up against Serral in the Challenger semifinals? Did you think he was weaker compared to 2018, based on what you saw from him so far this year?
I think I overestimated him a little bit. I prepared for Reynor but I did kind of feel like my preparation stopped there. I was really focused on beating Reynor and going up in the semifinal against Serral I was like
'well, I'll try obviously, but my focus is going to be on Reynor.'
Then, when I played him, it was I was actually really close to winning, but I don't know how much of that was me playing really well, or him not playing amazingly. To me, it kinda feels the same like always. A lot of my games against him are like... I have my moments against him, or I get ahead, but in the end he usually still wins. Kinda like those ZvZ series, I guess, it was really similar.
At 1-1,
in game three
, I was playing better than him for most of the game. I was behind in the start but then I got into a winning spot but never made a killing move and he came back. The last game I was was also in a good spot, but I wasn't really that in it anymore, I think I was just tired or something. I kinda just threw it away.
uThermal came close to stealing an impressive comeback victory against Serral in the EU Challenger semifinals.
It seemed like Serral had your number last year, notably in the WCS Austin Challenger finals where you were visibly tilting in the series. Is that generally how your games were in 2018, or was it different when you guys were playing on ladder?
Actually, last year I think if I played him on the ladder I would win most of the time, but... So, recently I've been doing a lot of mental coaching and working a lot on that. So I feel like in general, you can see it in the recent series that I was a lot more stable, even after losing the first game. But last year it was just... I remember that BO7 in the [WCS Austin Challenger] finals, I lost game one and that's basically where that series ended, I lost 4-0. I think usually my games against him were quite close, but I don't know, I always have those famous 'lose game one and its over' series. But in general, playing on the ladder, playing in practice, I would actually win most of the games last year. And now I feel like I've been actually been winning less against him in practice or ladder.
Who's helping you out with the mental coaching and your mindset?
I'm talking to Team Liquid's mental coach. I was supposed to start talking to him last year but it was difficult because I was moving back and forth between Mexico and Netherlands all the time, so I never really got to doing it. Maybe it was around the WCS Winter games that Dario brought it up again. Now we've started working for a month, two months or something like that.
And this person is an accredited professional, a sports psychologist?
Yeah, and what's really nice is—actually I worked with a sports psychologist before when I was like seventeen, but it was really difficult because that person was... She was actually an award winning sports psychologist, but she was just for regular sports, so it was really difficult to actually explain everything to her, how the environment was and stuff. It was kind of difficult. And the coach I have now is actually focused on esports, and he's actually been a fan of StarCraft in the past, so the communication is a lot better now.
Is this someone the US office of TL has arranged for you to contact, or someone in the Netherlands you can see in person?
Actually he's from Brazil, the one I'm speaking to. They have multiple—we call on Discord.
What kind of advice did you get? Sometimes you hear a player thank a coach or friend for helping them between matches, and it will be the simplest thing. Like PartinG thanked MC for encouraging him after a thrown game in Code S lately, by basically saying 'Hey, you're the better player. Just keep playing your game and you'll win.'
Basically I'm learning to... no matter what's happening, no matter my emotions or whatever, I'm learning to go back to optimal focus as fast as possible. So I'm just learning a bunch of patterns, mental exercises and stuff like that, to be able to go back to my optimal focus. Not getting overly angry during games, remembering to do all my things, go through my mental checklist, make sure everything is in order so I can actually perform.
And actually this WCS Spring Challenger was a really good example of that. In the group stage
I played DnS
, and I won 2-1 after losing the first game. The first game was like the most typical Protoss game ever after where I would normally get super tilted, but this time I actually only got better during that series and still ended up destroying him. And it was kinda the same with Reynor actually, I lost the first game pretty one-sidedly. The second game was close but I won, and the last two games I just destroyed him. It never really happened to me, but it felt like I actually won because I was just mentally stronger than them, so I think you can tell that it's working.
Going back to that game you almost won against Serral in the Challenger semis—so that's a game where you might have raged before about for throwing, but this time you felt more encouragement from playing so well?
The thing is, one of the things you learn is when a game ends—when you lose a game—the feeling about the loss should end with the game. Basically I don't want to think about it anymore. I think about it for a little bit, I decide what I think about it and that's it. But I have to admit this loss was a bit harder to swallow than the others, because a thing I struggle with a bit still is I get a bit overexcited when I'm winning. Against Zerg, you have those moments where you're winning, and it's still kind of difficult to play. Against Protoss, you crush their army and you've crushed their army, and against Terran it's the same. Against Zerg, if they have 15 Banelings, you can still lose your 40 Marines, so... Against Zerg what happens a lot is I get in this state where I'm only looking at my army and I'm waiting for the Banes to come, and I tunnel vision a bit and against Serral it kinda hurt [because I didn't hit my follow-up timing].
I know he's a really good player, and I think I'm really proud of that game because I played against the best Zerg in the world, and I was actually pretty far behind that game. It was a position a Terran wouldn't win from normally, and then I came back to a winning spot, I was very impressed. But then to not win the game, it hurts a little, you know? It was in my grasp. So I think that was the hardest map to swallow this Challenger. But generally you just think your thoughts, and your thoughts about the game end there, and you have to focus on the next one.
How did you feel when your inside-the-natural proxy didn't work out against Serral?
I didn't mind. I know it was very wacky—it was definitely not something I practiced by the way. As I said before, I prepared mainly for Reynor, so against Serral I went in the mindset of
'I'm just going to use a ton of mindgames.'
I knew which builds I did against Reynor, so I looked up the maps. I quickly opened up the VOD of souL and saw Serral's scouting pattern, I saw there was literally one spot he didn't scout and it was in a really weird spot behind the natural minerals, so I thought
'Why not? Let's go for it. No fear.'
It could have worked out, but as I said I never done it before, and his response was pretty good, just taking the third. I didn't mind losing, it was worth a shot.
Why do you think we're seeing so many 'weird' Terran strategies lately, like battle-mech, traditional-mech, or Battlecruiser rushes?
I think it has a lot to do with what I said before. Terran thrives on surprise, and people are just trying out a lot of things. For example I think this battle-mech style against Protoss is completely garbage, but if it surprises them and they don't know what to do against it, it can still work, right? For example, Maru's game against Stats where it worked, even if this were to be a s*** build, in THAT game it could still have been better than the 'best' build. It all depends on the situation.
How do you feel ahead of WCS Spring? What are your goals?
It's actually very hard to say. Cause if I look at my practice, I'm not really doing too great. I'm very middle of the pack right now when it comes to European pros at least. But the same time, my Challenger performance was really good, so we'll see. I'm still expecting to go pretty far, but it's definitely not like I'm full of confidence right now.
Any shoutouts or thanks?
Thanks to my team, my coach Claudio, and my fans.
---
WCS Spring begins on May 17th.
You can follow uThermal on Twitter at @LiquidThermy and on Twitch at Twitch.tv/Liquidthermy
.