Formula1 2019 - Page 6
Join the TLnet's F1 Fantasy before the season begins!

https://fantasy.formula1.com/
Code: d2af0dfc74
Thank you KobraKay for making the league. :D
Pr0wler
Bulgaria2065 Posts
Yeah the front wing fell off, because of the vibrations caused by the damage on the tyres.
Avocado can't do his trademark divebomb anymore as his Renault just doesn't have as much downforce as the RBR

edit: G_G Leclerc has engine problems
oh, come on ... Leclerc?.

Pandemona

Charlie Sheens House42357 Posts
Awww Lecrelc, at least he is gifting the win to Hamilton and not Vettel, but what a blow for the kid
Pr0wler
Bulgaria2065 Posts
So nothing changed in F1. Vetter still shits his pants under pressure and Hamilton is still riding his luck.

Oh and FIAT still can't make cars.
Ferrari - Mission Choke now ...

Leclerc is going to get 4th on current pace =/

Hulk SMASH? AVOCADO out too.... Renault WTF????????
Aristodemus
England1877 Posts
Such a cruel sport sometimes isn't it.

Happy to see McLaren show some real pace though, Sainz looked like he had Verstappen until they collided.

Vettel being Vettel was amusing.

Pandemona

Charlie Sheens House42357 Posts
Renault doing well there, taking one for the team to keep Lecrelc on the podium!
At least Leclerc gets 3rd. He still have some luck afterall
Excludos
Norway5561 Posts
That was heartbreaking.

Tried F1TV. Real mixed feelings. The driver cam were all massively out of sync and kept cutting to different places. The main stream was fine ish, but the quality kept dipping to 240p repeatedly. Definitively don't deserve the price point.

Kipsate
Netherlands29454 Posts
My first F1 watch (ya I watched after watching the Netflix docu sue me), quite fun! What happened tot Renault i mad tho damn, still costing my boi podium place in 2019.
sneirac
Germany3373 Posts
Excludos
Norway5561 Posts
On April 01 2019 04:19 sneirac wrote:
what an amazing shot
+ Show Spoiler +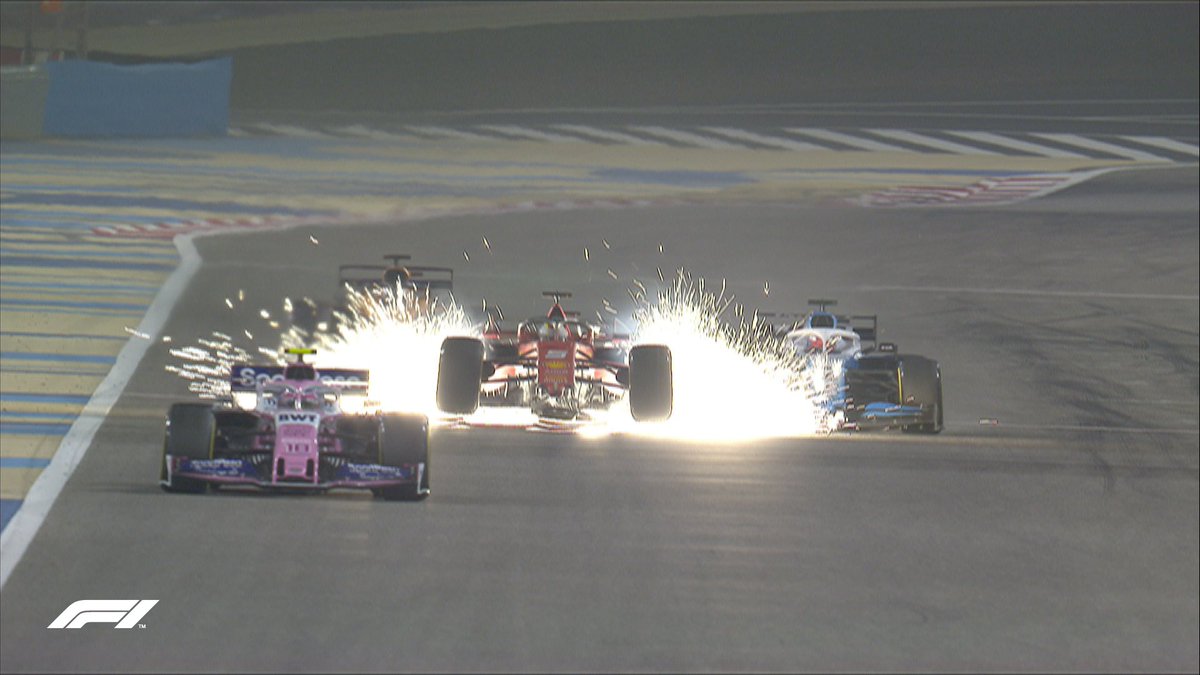 If I could sum up Bahrain in one picture, that would be it.
KobraKay
Portugal3357 Posts
This was looking like a great weekend but….well. Shit happens. There is time to go for a Ferrari win.
Looks like I missed a cracking race. Go on Leclerc I want to see him push Vettel hard this year.

GTR
48431 Posts
so weird seeing williams not only being completely garbage, but way off the pace of the haas/racing point/str cars
Qualifying has been a blast for the 1000th race. Most teammates were so close to each other during Q3.

Bot win Ham by .023
Vet win Lec by .017
Ric win Hul by .004

can Botas get one more?, sure he can!. 2019 is the year of the soO's.