Kaos in Mexico
This passing weekend, Kaos Latin Gamers secured a spot in the 2015 Season International Wild Card Tournament by defeating Lyon Gaming in the Latin America Closing Cup Grand Final. The series, hosted in Mexico, was a quick affair. Kaos Latin Gamers (KLG) handedly defeated Lyons 3-1. By breaking down this series, we can attribute KLG's victory to their superior skirmishing and objective control, although both teams showed some strategic deficits in comparison to more developed regions which KLG will have to address as they look forward to the IWC.
Scaling Wars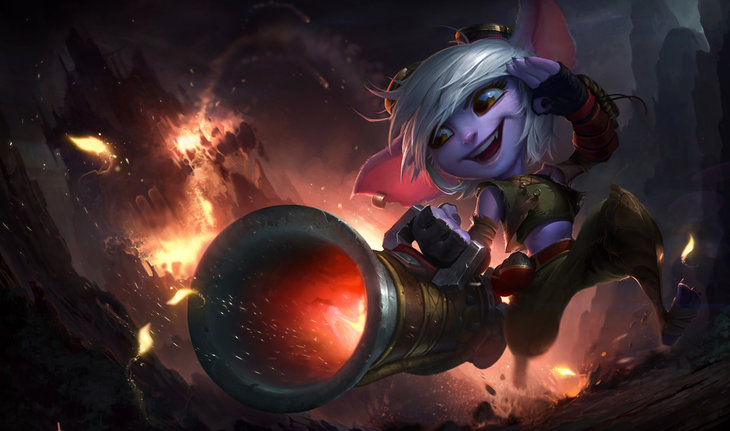 Looking at the picks and bans, we can see some of the philosophies each team brought with them for this match. KLG denied Lyon's Jungler, Marcelo "Thyak" Ramones, his Evelynn in all four games of the series to limit his ability to gank. Lyons eliminated Rumble and Fizz in the ban stage in every game as well, trying to deny Felipe Alejandro "Helior" Pastenes Ayca the ability to go with an AP top laner in favor of putting him on a tank. KLG's other bans were directed towards the mid lane with champions like Twisted Fate and Jayce, while Lyons final remaining band alternated between pocket picks of KLG's jungler and ADC.

Despite these two different approaches, both teams opted into compositions with hyper scaling ADCs. Tristana was played in 3 of 4 games by both teams in the series. Every game, save for the third game when Lyons used Sivir, had a matchup of hyper carries. This resulted in a lane swap scenario occurring throughout the series, but neither team played the lane swap to get their hyper carries ahead. Rather than having the carry solo freeze a lane to get more experience and accumulate gold, both sides did a 4v0 tower push to get immediate team gold.

This match meta played into KLG's hands: with Thyak showing himself in lane, Juan Cruz "Regi" Curto was given an even 1v1 laning phase against Ali "Seiya" Bracamontes. This meant that neither Thyak or Seiya could snowball super hard in the early game with kills. Furthermore, Matías "WhiteLotus" Musso has a reputation on Vayne and Tristana, the former of which he went 2-0 in the series with a cumulative 14/2/6 score line. Simply put, he outclassed Jorge Ivan "Nerzhul" Meza, Lyon Gaming's ADC, and in a series where both sides are playing protect the hyper carry compositions, that is an immense advantage.
Lazy Lyons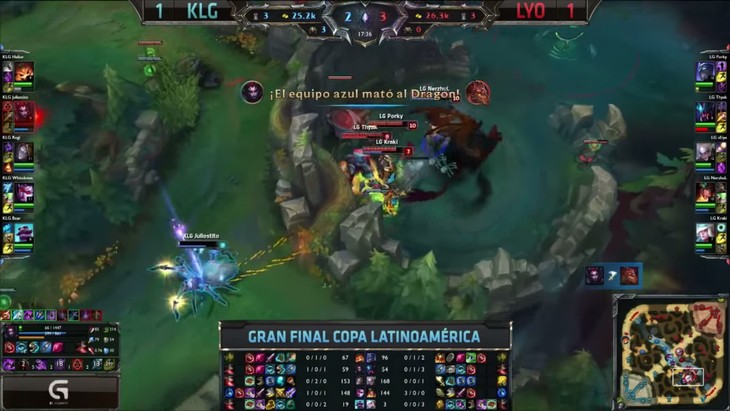 With mid lane picks like Azir, Viktor, and Orianna being utilized, Dragon control becomes an even bigger priority. The choke points along the way to the pit give these champions a concentrated location for their damage and cc to be used, increasing their effectiveness. Looking at the stats, it's clear that KLG had superior play around the dragon. Through the series KLG acquired 15 dragons, while Lyon Gaming only secured 3. Granted, one of those dragons KLG acquired was through an impressive steal by Julio Alejandro "Juliostito" Berrios Berrios, but that adds an element of outplay to the already exuberant stats.

Regardless, observing Lyon Gaming in action showed they had massive flaws in their play around Dragon. Lyon Gaming would move in to establish vision control, but then they wouldn't defend their vision and simply allowed KLG to retake control of a dragon which they had no right to have. The poor play of Lyons around the dragon is further exemplified in game 3, when Lyons decided to give Baron over to KLG while they secured their first dragon. That in of itself is a desperate trade, but then KLG used that baron to take all three of Lyon's inhibitors rendering it completely misguided.
Kaotic Extensions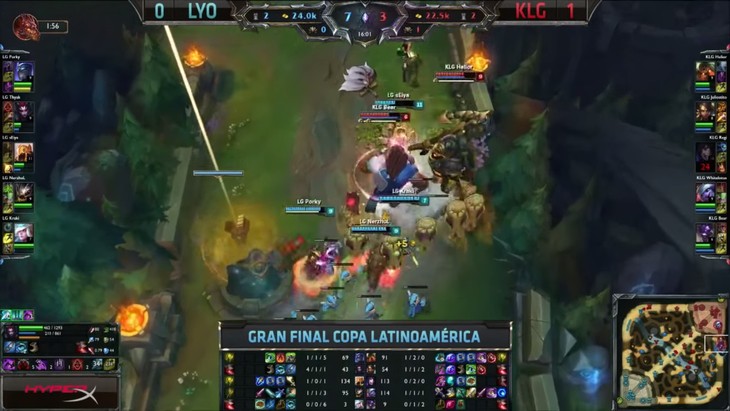 KLG weren't without their share of mistakes. The team has a tendency to chase kills and lose sight of the objectives. This is noted in game 3, where the team extended the game for several minutes when WhiteLotus and Manuel "BearJew" Parrochia tried for a pick in Lyons jungle without any deeper vision to spot out the rest of the Lyon Gaming.

Nowhere else in the series is this issue with KLG more exposed than in game two, the match they lose. Deviating from their traditional skirmishing comps for an AP pick composition, KLG were out of sync with the difference in win conditions. At fifteen minutes, they set a trap in the bottom lane with Helior hiding in a brush. Things went awry when Helior engaged onto Nerzhul and Juan "Kraki" Carlos Muñoz while his allies went onto Thyak. Bear and Helior chased kills, leaving Julio and Lotus to die without peel. All this occurred while Regi on Ahri was nowhere near the fight. This misplay gave Lyons a four for one trade and the bottom outer tower. Lyons pushed the advantage further by taking the inner tower with a kill on Regi, and KLG make an additional mistake. Bear and Helior chase Lyons out of their base, fixated on an engage while Regi is dead and Lotus is still in base. Seiya easily punishes the overextension with an Azir combo to trap the pair under a newly raised Azir tower, and they both die again. This mistake gave Lyons that particular game.
The Engages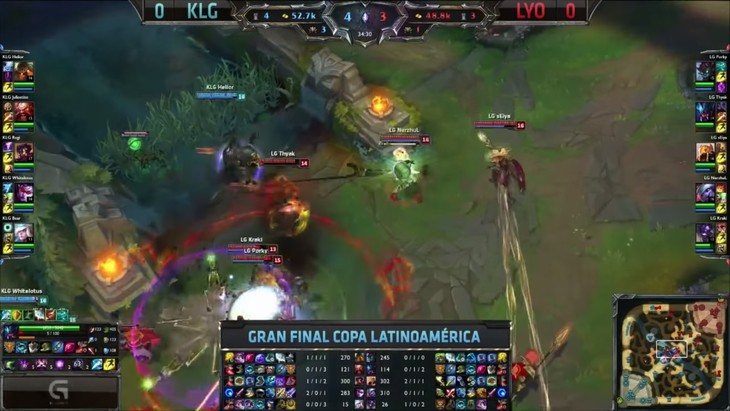 Excluding the awful second game, Helior and Julio contributed enormously to KLG in the series with their impressive engages. In the first game, Helior makes two teleport homeguard flanks which resulted in teamfight wins for KLG. The first time, Julio played off his top laner and isolated Seiya with his ultimate. The second time around thirty four minutes, Helior singlehandedly holds the entirety of Lyons down, perfectly distributing his CC between NerzhuL and Seiya. In the fourth game with Julio on Ekko and Helior on Shen, they engaged smoothly with Stand United. After Julio delivered his top laner to the fight, Helior was able to land a Flash Shadow dash combo to kill NerzhuL's Kog'Maw. Helior would later prove reliable with the technique when he did it later in the game, this time catching two people with it.

In addition to these engages, both Julio and Helior managed to take dragons away from Lyon gaming. Julio pulled off a steal with Elise in game three in standard fashion for the spider queen. Helior, on the other hand, executed his steal by first killing Thyak's almost dead Gragas, and then taking the beast for his own in the fifth game. Other players on the team had their moments, but Julio and Helior certainly managed themselves incredibly well.
Conclusion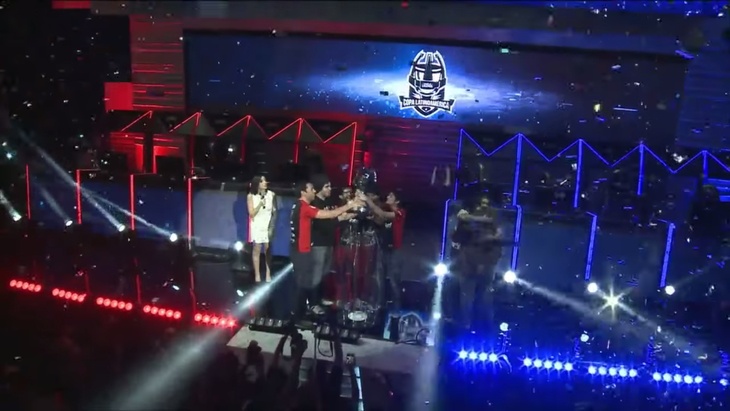 With the strength of strong skirmishing and reliable engage, KLG have earned the privilege to attend the IWC this year over Lyon Gaming. Going ahead, the team should do well to remember their problems with overextending, and not become too complacent in their objective control. For now, Latin America can place its hopes and expectations solely on KLG's shoulders.
¿Quieres mas?
Latin American League of Legends is on the rise, so come register on LiquidLegends.net and join us in the discussion on our forums!