There comes a time in every man's life where he is called upon to do something great.
This is not one of those times. This is one of the times you look back on in life and ask "Why did I actually do this?" and come up with no solid answers.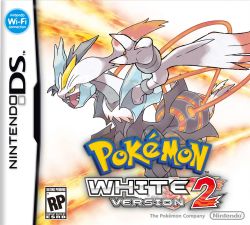 For those of you who don't know what this is, this is a Pokemon Mystery Egg Run. What happens is as follows; I convince any number of strangers/friends (in this case 6) to breed a Pokemon Egg. Then, I restart a game, and rush through the first gym (required for trading Pokemon). Afterwards, I trade for the eggs, hatch them, and then beat the game with the resulting team. Of course, I have no idea what's in these eggs...and sometimes neither do the donors. It's always a toss-up of how the run can go. Sometimes you'll end up with a near-championship caliber Pokemon, a left-over egg from countless hours of breeding, left to gather dust until this day as his brother or sister brings home victories. Other times you'll get some far less impressive Pokemon, and that's all I can say without being rude.
I'd like to start off by thanking the six Egg donors for this run, I was given a rather exciting team and I look forward to battering through Unova with them.
---
In a bizarre twist of events, my first egg that I received was one of the last to hatch...a fact that I was fairly excited about considering I had been gifted the Egg and told it had Pokerus. Pokerus is a Pokemon "Virus" that is sometimes found on Wild Pokemon, and it doubles the amount of Effort Values gained when training a Pokemon. If you're not quite sure what Effort Values are...in short they are "additional" stat points gained from battling other Pokemon. Every Pokemon has an Effort Value attached to them, and should your Pokemon be victorious in a battle with a Pokemon of that species, they get an extra small stat boost in the stat corresponding with the Effort Value.
+ Show Spoiler [Stat Sheet] +
Obsidian the Larvitar. I always get mixed feelings about getting Ubers from Mystery Eggs. On the one hand it offers the somewhat strange experience of using a Pokemon with a traditionally slow early Power Curve in a situation often slanted the opposite way, but on the other hand it makes the late-game somewhat terrifyingly easy. That being said, I can't change the team I was given, and Obsidian has a monstrous Attack IV and I'm really excited about that.
If I had to guess, this Pokemon was the result of an early step in breeding a high quality Pokemon for battling competitively.
My next team-member fared a little differently. While Obsidian had an Attack IV of 31...Kleenex did not fare so well. As if to balance the 31/31 Attack/Special Attack on Obsidian, my second Egg resulted in a Pokemon with a horrifying 1/1 Attack/Special Attack IV spread....but somehow a 31 in Speed and HP.
+ Show Spoiler [Stat Sheet] +
Kleenex was really surprising to me, as it hatched rather quickly upon reception...meaning it had been with the gifter's party for quite some time before it was given to me. I've also never in my history of playing Pokemon games used a Sneasel, only caught a few for 'dex filling purposes. It's a strong typing, and a fast Pokemon so it should be quite useful in our adventure. The IV spread is, frankly, hilarious. How someone managed to breed a pair of 31s onto a Pokemon with absolutely horrid Attack stats is mind-boggling.
The third member of my party would turn out to be the "best" if we're just objectively looking at IV Spreads. While it's also a Pokemon I've almost never used (I much prefer the counterpart despite not being able to give it as great a move-set) I've always liked Poison Types (I really wish it got more love/moves/etc) and so I'm happy to have one on my team this run around.
+ Show Spoiler [Stat Sheet] +
Isis the Nidoran(F) is probably going to be the surprise powerhouse on this team, considering the First and Fifth members being the obvious sweepers. I'm planning a rather fun moveset for Isis, but it all depends on how the game starts turning out I guess.
The Fourth member of the team turned out to be one of my all time favorite Pokemon. I haven't gotten to use one on a team in quite a while just because of how the games have been made, but I'm really really excited to finally have one on my team again.
+ Show Spoiler [Stat Sheet] +
Crowne the Krabby. A very exciting Krabby specimen. Crowne is a Dream World Female meaning, should I choose, I could breed more Krabby with the Dream World Ability (Sheer Force). Having the Dream World Ability for Krabby is a huge boost, as Sheer Force combined with Krabby's strong Attack stat is really powerful. Crowne also came with some Egg Moves, but none of them are particularly useful with Krabby's low base Sp Atk.
The Fifth member of my team, and second Uber on a run (Yikes!) was yet another surprise, this time around because the egg hatched much too quickly for the Pokemon that was inside. Let's just say I'm looking forward to throwing Soulkey at Opelucid's Gym later on down the road.
+ Show Spoiler [Stat Sheet] +
Yes, that's right...a Dratini. That means at end-game I'll be the proud owner of a quite monstrous duo of Dragonite and Tyranitar. I'm not sure I can elaborate on it much other than DAMN. This is a MUCH more powerful team than I'm used to on Mystery Egg runs.
The sixth and final member of my team is much less impressive than a Dratini or a Larvitar, but still extremely useful in it's own right. It even fills the slot of a Fly-er (much like Crowne will become my Surf-er) inside my main team.
+ Show Spoiler [Stat Sheet] +
Zaxby (Yes, named after the fast-food restaurant that I happened to be eating at last night while he hatched) the Archen. I've never used one (In Black I chose Tortuga, the other fossil) and haven't gotten the fossils yet in Black2. He's got a strange ability in Defeatist, where his stats drop if he's below 50% health, so I've got to keep that in mind.
Overall it's a pretty interesting team, with some decent Type-spread and absurd raw power.
---
The Team Now
At this point in the game, the biggest weakness my team faces is Steel Types, compounded by the fact that most of my team is comprised of Physical attackers. Luckily that shouldn't hinder us at all getting rolling, but I'm also worried about the power curve on some of the Pokemon (see Obsidian and Soulkey)
The Team at Completion
The biggest weakness on my team after evolution becomes Ice, which is fairly problematic. All 3 of my sweepers are weak to Ice-types, with Soulkey even having a 4x Weakness. Hopefully Crowne and Kleenex can step it up and switch in for Ice Types.
Fighting types also become fairly strong against my team as well, not sure what I'm going to do about that (other than hoping to maybe out-speed them with Zaxby)
Overall, it's a fun looking team and I'm expecting a lot of fun with this runthrough.
---
PROGRESS CHECK:
Of course, we've already gotten the first badge, but now we hit the snag of having to find a way to level up 6 Pokemon from Level 1, still not sure how we're going to do that....but find out next time on Pokemon White2 Mystery Egg Adventures!