Three weeks on Intermittent Fasting

or...

If God is a chicken I am going to Hell



In my last blog I talked about how a random TL connection exposed my to the idea of intermittent fasting, the leangains blog, and the fact that my friend was doing some consulting.



Intermittent Fasting (I.F.) is a pattern of eating that alternates between periods of fasting and non-fasting. There are a few different popular types (you may have heard of 'The Warrior Diet'), but for our purposes, please think of I.F. as purposefully skipping breakfast. Of course, there is a little more to it that, but for now, please think of it in those terms.



Three weeks have passed since I started intermittent fasting. Considering that this diet, way of eating, and way of working out is completely new to me I am really happy with how well things have gone. Upon contacting Andy the first thing he had me do is take some measurements in order to "figure out my macros". Initially i said "No worries, 1a2a3a4t5t6t7t8v9v0v". I was way off. Apparently that is short for macronutrients, and those are just my protein and carbohydrate targets for each day.



Count macronutrients, not calories, and give yourself targets for training days and non-training days. This makes everything a lot easier and thus sustainable.



The first week I killed myself hitting my macros. I was cooking all my own food, eating 3x the protein I was used to, and shopping every day. What I was doing was not going to last. Slowly but surely though I found myself settling into a routine that allowed me to hit my targets, took a lot less time to prepare, and didn't stop me from eating with my family at night.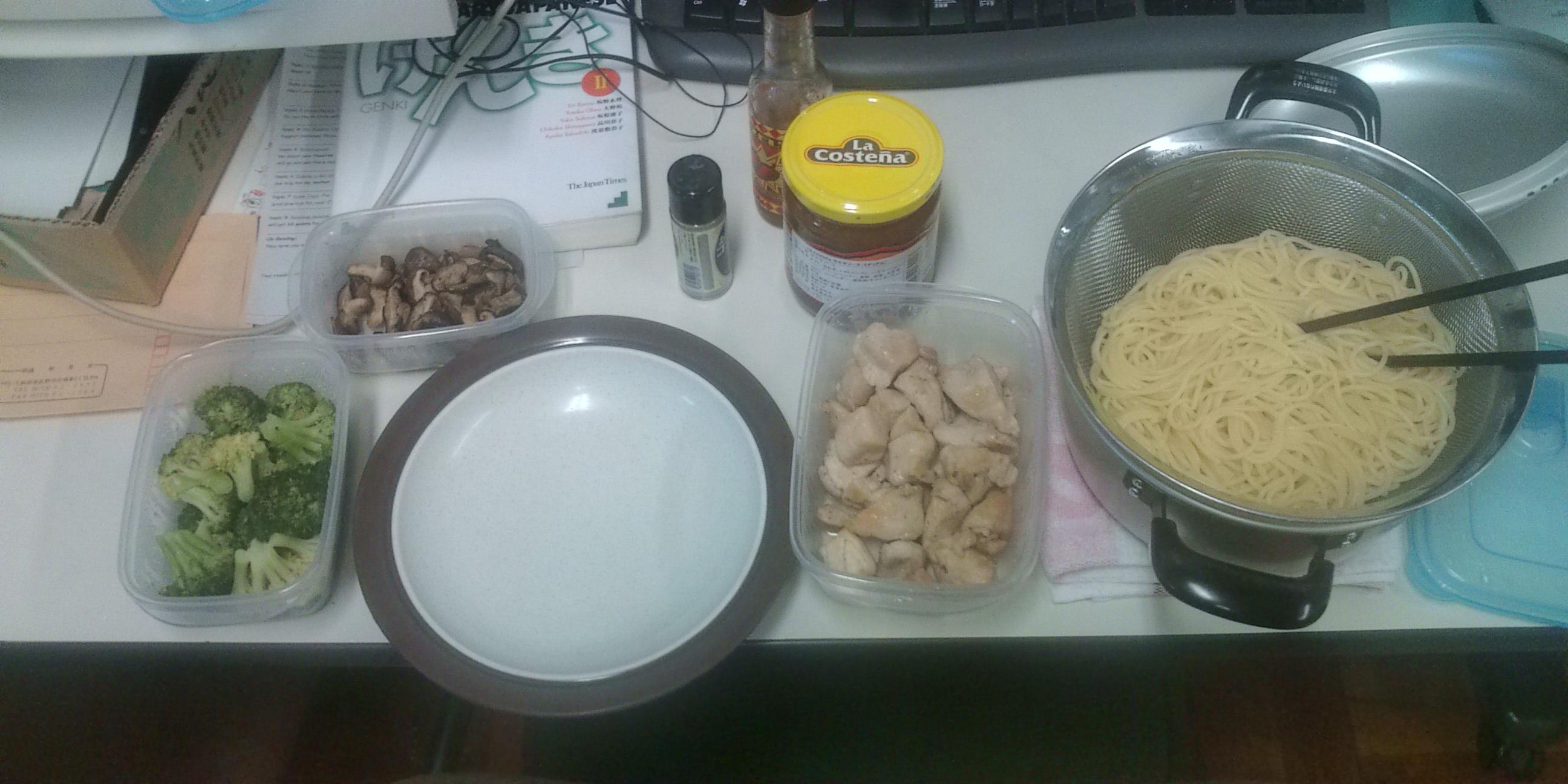 Mmm... workout day lunch, half my daily macros.



Getting the amount of protein I need each day is my biggest challenge. I devour chicken breasts like they are going out of style. I'm growing wings. The lady at the supermarket looks at me funny when I buy 4kg of chicken at a time. Whatever. During the day I have an eight hour window in which to eat, and my body then fasts for the next sixteen. I was hungry in the mornings at first, but my body slowly adjusted. It helps that my mornings are normally very busy, leaving me not a lot of time to think about food.



Choose a time, one hour, 3 days a week. Do big compound movements and forget about the rest for now. (Squat, Deadlift, Press, Chin-ups, Benchpress, Dips)



A couple years ago our school came across some extra budget and built a weight training room tucked in behind the bike racks. In the mornings when I arrive at school the place is deserted and the room is all mine. It is good for my fragile ego that there are no witnesses.



Body-recomposition is 70% diet, 30% training. Put your efforts into this in that ratio for results.



Basically this is the most important lesson I have learned thus far. I think I have always overvalued exercise. Going on a 100km bike ride sounds great, but if you follow it up with a terrible dinner and a six pack, it doesn't mean a thing.

The scale tells me I am getting results, but the real results are in how I feel. Like a million-freaking-dollars. When impose your will and enact change on your body, there is no better feeling in the world. If you have any questions feel free to ask, but I am no means an expert. I recommend reading:

http://rippedbody.jp/english/the-guide-english/
www.leangains.com